LAKEWAY AND SPICEWOOD: GET QUALITY COMMERCIAL AND SMART HOME AUTOMATION HERE
More and more homeowners and businesses throughout the Spicewood and Lakeway, Texas area are upgrading their properties with smart automation systems. This technology offers so many benefits, from increased energy efficiency to greater security to more beautiful property design.
Whatever your goal for smart technology, we can help make it a reality. We are a full-service smart home automation and commercial technology company serving the Texas community. Explore a few of the solutions that are most popular in your area below!
FEATURED SOLUTIONS IN LAKEWAY AND SPICEWOOD
HIDDEN TECHNOLOGY
Enjoying the latest 4K television, multi-room music, and motorized shades doesn't mean you have to sacrifice clean design. We offer hidden technology solutions that allow you to access the smart devices when you want them, then hide them away when they're not in use.
For example, have a television silently lower from the ceiling or reveal from behind a piece of artwork. Have speakers that deliver amazing audio while blending seamlessly into the walls and ceilings.
We can work directly with interior designers and architects to create a hidden technology solution for your home or business.
BUSINESS SECURITY SYSTEMS
The right technology can go a long way toward keeping your business safe. We'll design a custom mix of technology solutions—such as smart surveillance cameras, remote monitoring, and access control—that will achieve your business goals.
Keep track of inventory, employees, and customers via surveillance cameras you can access from anywhere using your smartphone or tablet. Use the same app to remotely lock the doors at closing time and even turn off the lights!
WHOLE HOME AUDIO / VIDEO
In most homes, the audio and video devices are separated by room, with no easy way to manage everything together. But with the right technology, all of those individual devices can act as one cohesive system.
We connect your TVs, sound systems, Blu-ray players, cable boxes, and more, so that no matter what room you're in, you can simply pull out your phone, tablet, or universal remote, and access the media you want.
You can pause the movie in the living room, then resume it at the exact same spot on the TV in your bedroom! While you're moving throughout your house, set the whole home audio system to play your favorite soundtrack in every room (or just a few rooms that you select).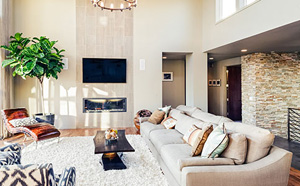 The solutions mentioned above are just the tip of the iceberg when it comes to commercial and smart home automation! For a full run-down of the options for your home or business, schedule a no-obligation consultation using the form below or give us a call at (512) 387-8221.